| | | | |
| --- | --- | --- | --- |
| Call for Submission: "MAKING ESCR WORK IN MALAYSIA" | | | |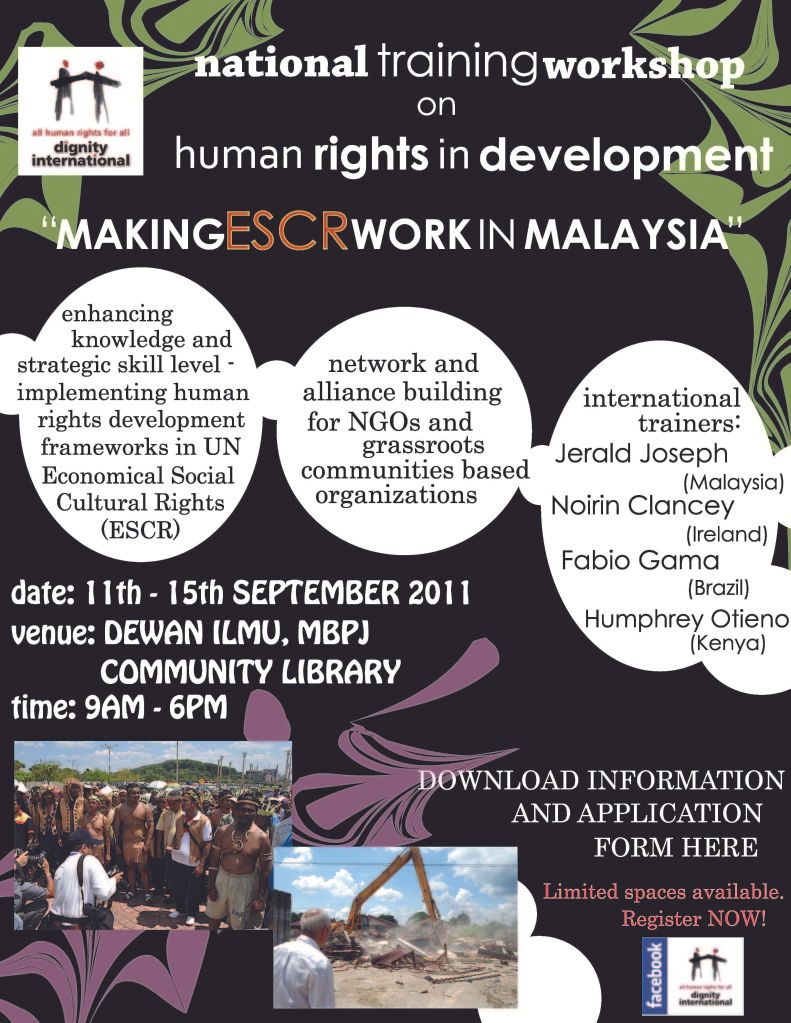 Dignity International will be conducting a national training programme for the first time in Malaysia from the 11th to 15th of September 2011. The programme is geared towards development actors from grassroots communities based organisations (CBOs) and NGOs in Malaysia who are beginning to integrate human rights in development work and would also like to gain a deeper understanding and the utility of international human rights instruments.
With a group of facilitators experienced in development and human rights at grassroots and international levels, participants are bound to receive an informative, interactive and enjoyable learning process.
Download programme information and application form HERE>>>
Limited spaces available. Register NOW!
EXTENDED Application deadline : 7th SEPTEMBER 2011

Any inquiries, please contact Sasha at +603 7931 0741 or This e-mail address is being protected from spambots. You need JavaScript enabled to view it
Search
Article Archives
►

2014 (2)

►

February (1)

►

January (1)

►

2013 (10)

►

July (1)

►

June (1)

►

May (2)

►

April (2)

►

March (2)

►

February (1)

►

January (1)

►

2012 (3)

►

2011 (28)

►

November (1)

►

October (2)

►

September (2)

►

August (4)

►

July (1)

►

June (1)

►

May (5)

►

April (1)

►

March (9)

►

February (1)

►

January (1)

►

2010 (7)

►

December (1)

►

November (2)

►

October (2)

►

August (1)

►

February (1)